1973 Giulia Super 1.3
Purchased in Holland September 2006
Driven in Netherlands for several weeks until shipped to the USA.
Used in the USA for a few years until the head gasket blew then parked until a full restoration could be performed.
October of 2010 a full restoration began with its completion in July 2011.
Having driving thousands of miles, including crossing the USA three times, its still running strong.
---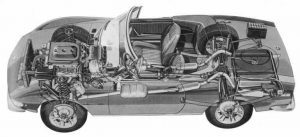 1968 Fiat Dino Spider
Purchased in East Hampton, NY September 2005
Due to neglect work needed to be performed straight away. The engine, transmission and the entire suspension was removed, rebuilt and replaced. This stage of the restoration was completed May 2006. Various small tasks were performed through the years following while still enjoying driving. In January of 2012 the car was stripped down and interior removed in preparation for a bare metal respray and complete refurbished interior.