CURRY
• 1 Tbsp coconut or olive oil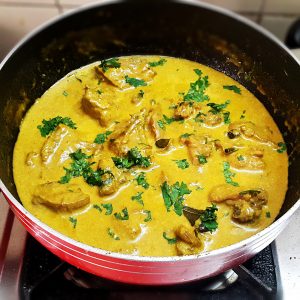 • 1 small onion (diced)
• 4 cloves garlic (minced // 4 cloves yield ~2 Tbsp or 12 g)
• 1 Tbsp fresh grated ginger*
• 1/2 cup green bell pepper
• 1/2 cup diced carrots
• 1/4 cup diced tomato
• 1 Tbsp curry powder
• 1 pinch cayenne
• 2 14-ounce cans coconut milk
• 1 cup veggie broth
• Sea salt and black pepper (to taste)
• 1 apple
Instructions
2. Heat a large saucepan or pot to medium heat and add coconut oil. Add the onion, garlic, ginger, carrot, peppers and a pinch each salt and pepper and stir. Cook, stirring frequently, until softened – about 5 minutes.
3. Add curry powder, cayenne (or chili pepper), veggie stock, coconut milk, another healthy pinch of salt and stir. Bring to a simmer then reduce heat slightly and continue cooking for 10-15 minutes.
4. Add the tomatoes and apple in the last 5 minutes so they don't overcook.