Idaho only seemed to look better in the AM because today we were going to see something besides potatoes and wheat fields. Just before we were able to say our goodbyes to Idaho we were subjected to some very steep roads with 10% grades. Giulia was not happy at this altitude pulling all the weight. Fortunately the crest was upon us before too long. As a farewell to Idaho, Dinky was forced to pull over by the local lawman and told he was driving 9 mph over the speed limit. As he has only a Dutch license the local township was unable to benefit financially from him and he was told to SLOW DOWN!
A few hours northeast from Burley was both Teton and Yellowstone forests.
Before entering the parks we were subjected to the horribly tourist trap town known as Jackson Hole. Crawling with tourists the drive was reduced to a craw to avoid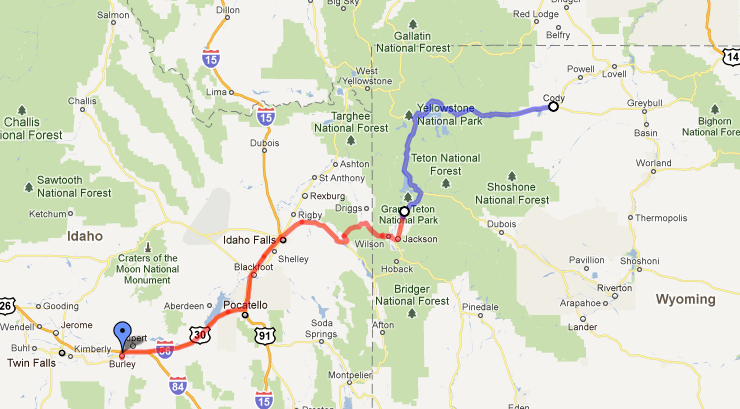 hitting the throng. The local wildlife have more sense to keep out of the road.
Both of the parks were quite spectacular. The roads were well maintained and brimming with wildlife. Unfortunately they were also filled with tourists who would fill the roadside each time we would pull over to take a photo. Snapping a shot of an Elk was easy, keeping a befuddled tourist out of the shot was hard.
Driving late, we were treated to a spectacular sunset and a welcome respite in Cody where we passed a huge rodeo on the way to our hotel.
Total Distance: 639.42 km (397.3 mi)
Total Time: 11:53:09
Moving Time: 7:20:18
Average Speed: 53.80 km/h (33.4 mi/h)
Average Moving Speed: 87.13 km/h (54.1 mi/h)
Max Speed: 137.54 km/h (85.5 mi/h)
Min Elevation: 1247 m (4092 ft)
Max Elevation: 2599 m (8528 ft)
Elevation Gain: 3709 m (12167 ft)
Max Grade: 21 %
Min Grade: -17 %