Total distance: 514.90 km (319.9 mi)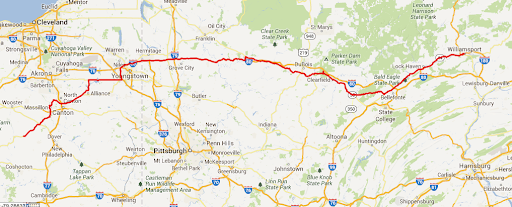 Total time: 11:31:13
Moving time: 8:08:33
Average speed: 44.69 km/h (27.8 mi/h)
Average moving speed: 63.24 km/h (39.3 mi/h)
Max speed: 130.38 km/h (81.0 mi/h)
Average pace: 1.34 min/km (2.2 min/mi)
Average moving pace: 0.95 min/km (1.5 min/mi)
Fastest pace: 0.46 min/km (0.7 min/mi)
Max elevation: 708 m (2323 ft)
Min elevation: 127 m (416 ft)
Elevation gain: 4278 m (14036 ft)
Thanks to an employee discount we were able to stay at the Williamsport Fairfield inn for a bargain price. Williamsport is home to a couple of worthwhile stops; Bullfrog Brewery with many great microbrews and Alabaster Coffee Roster. After the typical hotel breakfast we ran over to Alabaster for a proper Italian coffee then hit the road recharged.
The early part of the day we spent driving along and over the Susquehanna River. Once we split off from that we took a scenic drive through Black Moshannon State Park then passing Philipsburg. As we were driving through SB Elliott State park we were diverted off our course due to a road closure due to an accident. Our detour was a charming gravel country road not even wide enough for our car let alone the two way traffic that was now coming our way.
We stopped in Clarion PA for a quick-lunch and used the wifi to book our nights lodging in Berlin OH – Amish country – and a dry town! So with an hours distance to the hotel, we stopped for some great craft beers at the Winking Lizard Tavern – then to Berlin Ohio for the night.