We only covered about 85 miles this day as we decided to take in the sights of St. Louis and the surrounding area.
Our first attraction was also our official start of the Route 66 drive. Just east of the Mississippi river and the Missouri border is the Chain Of Rocks Bridge. This early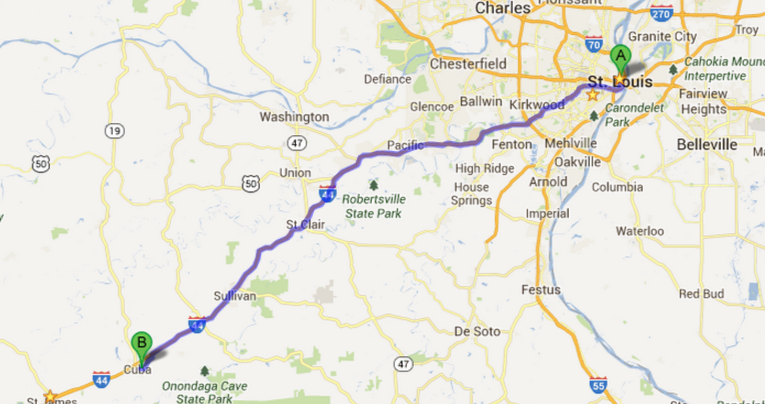 Route 66 river crossing was decommissioned in the 60s and was set for demolition in the 70s. Fortunately the price of recycled steel was very low so the bridge lay ignored until the 90s when it was converted into part of a bike trail-way. After our hike back and forth on the bridge we set off for the Missouri Botanical Garden and the former home of Henry Shaw. The temps were the hottest this day since we set off with hight around 95. So after a few hours of wandering the gardens and ponds in the intense heat we had a quick stop for craft beer at The Royale. We then made a quick pass by the Bevo Mill – a nice copy of a Dutch windmill that serves as a restaurant and catering hall.
With the high temps starting to get to us, we hit the interstate for a very short spurt until we were able to drive on the historic route 66 east as it weaved north and south of Interstate 44.
Along the roadside, seemingly hundreds of billboards promoted the famous Meramec Caverns. Normally the more road-signs there are to promote a place – the more of a tourist trap the place is going to be. Meramec Caverns proved this theory correct. After the steep 20 per person entry fee we were at least able to cool ourselves in this subterranean roadside attraction. Fortunately we arrived at the caverns late for the last tour of the day and thereby had a private tour without screaming kids or pushy parents.
As the sun was setting we pulled into Cuba MO and our lodging at the Wagon Wheel Motel – a kitsch motor court with private cottages that has recently been remodeled and restored. A welcome change from the posh Marriott in down-town St Louis, these cosy cabins offer a clean room with welcome air-condition. The town of Cuba is best known among RT66 travelers for its many beautiful murals painted on its down-town buildings. Checking out those murals and downtown Cuba will come tomorrow.