Houston, MS to Cookeville, TN  via Natchez Trace Parkway & I40 / 305 mile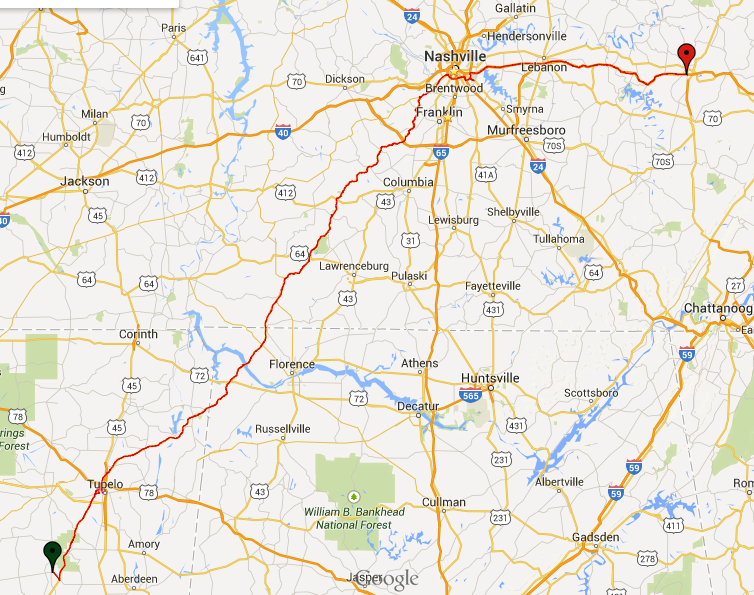 Heading north again on the Natchez Trace parkway for the second day I stopped in Tupelo MS for coffee. Another historic downtown with lots of vacant storefronts.  There are signs of life and rejuvenation in the area. Hopefully it will come back to prosperity.
At the northern end of the Trace the terrain becomes much more hilly and rocky causing the parkway to snake and undulate it's way between through the valleys. This is where the road becomes both scenic and more fun to drive. The posted speed limit dropped down to 40 in this area but I think that is intended for lesser cars then Alfas. The sport bikes that raced pass also did not take notice of the low speed limit.
It's in this northern area that there is a grave and memorial to explorer Meriwether Lewis of Lewis and Clark notoriety. It was at this location in 1809 that he was robbed and murdered has he was traveling the Natchez Trace on his way to Washington DC.
At the end of the Trace parkway is Cafe Loveless – a former cafe and motel turned tourist attraction. No longer are rooms available for the night as they are now shops for tourist items. The cafe is still in operation and seemed very busy.
I stayed overnight in Cookeville TN. The north side has been revitalized and includes some great shops, cafes, a train museum/vintage station and of course a craft beer bar.