Day two: Alexandria LA to Houston, MS via Natchez Trace Parkway / 311 miles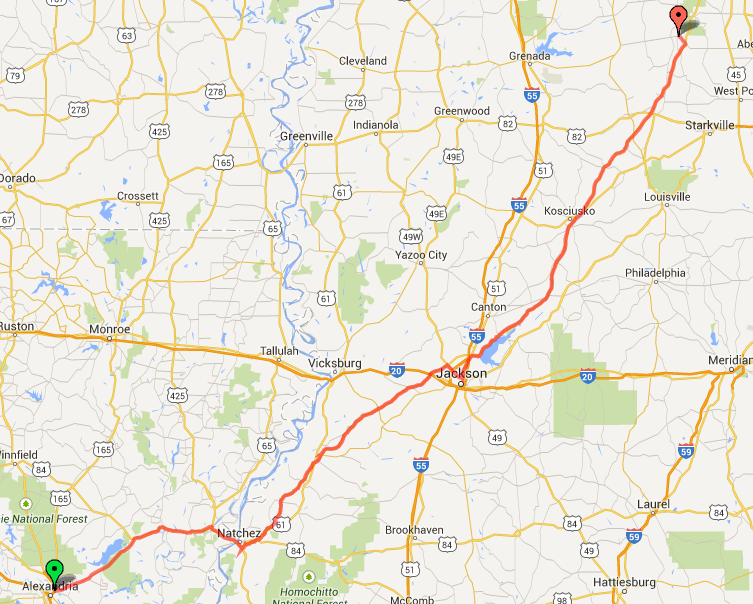 Dawn never seemed to occur since a huge storm rolled into Alexandria Louisiana just as I was about to set off. A few miles from the hotel in downtown Alexandria is a hipster espresso shop with covered parking where took cover to wait out the worst of the storm. Just over an hour later the thunder and heavy rain had passed leaving strong winds in its wake.
The buffering wind and showers ended an hour later, just as I entered the southern entrance of the Natchez Trace Parkway – mile marker 1 of 444.
This beautiful parkway/National park follows and commemorates "The Trace" – a historic trail of 440 miles that has been used for centuries by Native Americans and early European and American Explorers. The trail is thought to have prehistoric origins. The parkway approximately follows the original trail and parts of the original trail are still accessible from the many lay-byes along the parkway.
The speed limit on the Trace is limited to 50mph but there really is not much desire to push beyond that and the lush green landscape passes by. Driving this roadway takes you back in time to the days of small two lane highways where you can drive for miles without ever seeing another car. Motorcycles and bike riders are more numerous. The national park service has done a great job; the road surface is immaculate and smooth.
Just north of Jackson MS is a great section of town featuring a coffee shop, quirky stores and a great BBQ and craft beer pub; The Pint and Pig. The area has retained it's art deco architecture and is experiencing a revival thanks in part.