Departing Egmond aan zee and its gale force winds and crashing waves we started our trip south with the little AlfaSud. The navigation systems consisted of: main turn by turn navigation via WAZE. This app is most useful for avoiding traffic. As most of the route involves large highways full Dutch caravans heading south too – this was essential. The second device displayed our planned route and points of interest.
Our first stop was the castle / tower Musée du Silex  just over the Dutch border in Belgium.  This fortification is proof of what some time and a vision can achieve.
The first beer related stop was Abbaye du Val-Dieu. The beers here were all uniformly excellent with the darker Grand Cru being the highlight.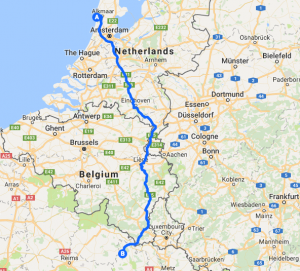 About an hour south of the Abbey was another beer stop whose vocation was not dedicated to religion but to money: Brasserie d'Achouffe. A reasonably famous brewery whose iconic gnome mascot adorns every item of tat available in the  crowded gift shop.
Skirting the border of Luxembourg  our route afforded us the opportunity to fill up with inexpensive fuel. One side of the road was Belgium, the other (filled with gas stations) was Luxembourg. Travelers from everywhere were here with the same money-saving idea.
The bumpy roads and ugly scenery of Belgium gave way to the sweeping wheat covered hills and smooth roads of France and our stop for the night in the town of  Dun-sur-Meuse.  A very simple but modern American styled motor inn with parking outside the door and air-conditioning! The surrounding village is typical French – few people around but lush and beautiful.