After an early morning walk in the mostly deserted French town of Dun-sur-Meuse we ended up at a BOULANGERIE for a croissant and coffee. The baked items on display were all postcard perfect – sadly modern technology invaded into the coffee preparation area, and like so many other shops, they pushed a button on a small machine for our coffee.
Driving Sud by sudwest through small villages and large areas of parklands, past the town of Verdun and several others scared by the effects of "the great war" we arrived in the very large city of Nancy.  Here and now the Germans arrive via tour busses rather than tanks.   The primary point of interest in the city of Nancy is the ornate center square Place Stanislas and the surrounding shops and cafes. Unfortunately the beauty of the square is marred by the now too often sight of the tourist train dragging bloated shoppers from sight to sight.
On the road again traveling through the beautiful twisty mountain roads of the Ballons des Vosges Natural Regional Park. The temperatures dropped as we rose up the scenic route past dense very green forests. Architecture takes on a very Austrian look as the wooden homes peek out of the woodlands.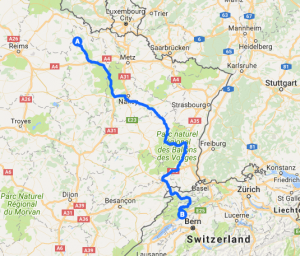 The historic town of Eguisheim guidebook favorite luring tourists with its promise  of wine and beauty. One gets the feeling the town was wholly created by a group of vineyard owners as a ploy to get tourists to load up their cars with bottles.  The ominous tourists train indicated it was time to depart.
Wanting to get to the nights accommodations and explore the area traveled via highway to the Swiss border where we were greeted by the unfriendly faces of the guards who angrily waved us by as the new road pass was already affixed to the windscreen.
The Swiss Hostal Lago Lodge in Nidau Switzerland is part hostel but mostly brewery. These two ingredients are an irresistible combination to  hipsters and hippies and the lawns were full of them.  The beers were great and the food (as usual for Switzerland) was too expensive.